The representatives of International university sports federation (FISU) Zeljko Rajkovic and Fiona Testuz conducted an official visit to the Belarusian State University of Physical Culture (BSUPC).
The delegates arrived in Minsk in preparatory activities for the IX Canoe Sprint World Championship in Belarus, 2020.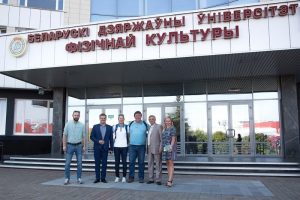 The guests were met by the first vice-rector Sergey Shavruk and the head of international department Irina Liashkovich.
During the visit the guests learned, how specialists in the field of sport are training in our country, got acquainted with sports infrastructure and training facilities of the BSUPC, sport track-and-field arena and swimming complex.  Also they visited headquarter of National Olympic Committee of the Republic of Belarus and NOC Olympic Museum.